Hey everyone!
Today we're thrilled to announce the news we know you've all been waiting for… Eastward is coming to PC, Mac and Nintendo Switch on Thursday September 16th – and you can pre-purchase it on Steam and Nintendo Switch for 10% off RIGHT NOW! Please note the 10% off is only available for pre-purchases, not after launch, so grab it while it's hot!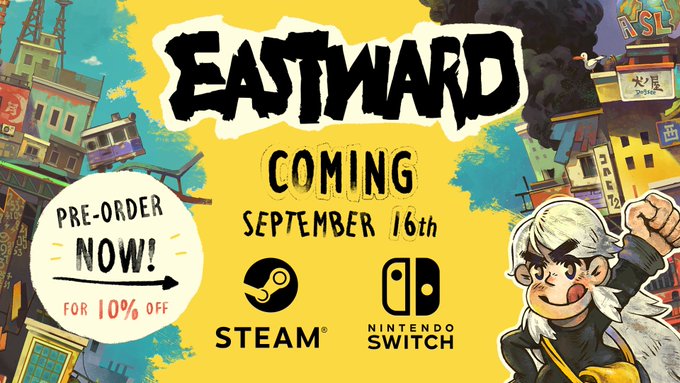 Eastward will be available for $24.99 / £21.99 / 24.99eu (as well as other regional variations) and playable in English, French, Japanese, Simplified Chinese and Traditional Chinese. Eastward is a big game for an indie (approx 30 hours) with a rather sizeable amount of words, so we'll be considering future languages for localisation based on post-release demand.
Here is the release date trailer:
Pre-order on Steam:   https://store.steampowered.com/app/977880/Eastward/
Pre-order on Nintendo eShop:  https://www.nintendo.com/games/detail/eastward-switch
JPN physical version: http://www.kakehashigames.com/eastward.html
Thank you for all of your support!  See you later on the launch day!